Perfectly Happy - Find your happiness!
Improve your life sustainably in just a few minutes a day.
Perfectly Happy helps you to live the life you want with scientifically proven techniques. Stars like Oprah Winfrey, Jennifer Lopez or sports icons as Tiger Woods successfully use visualization techniques to optimize their lives and performance. And you can do that too!

With the Perfectly Happy app, you can let go of negative thoughts and focus on good things. This is how you fully benefit from the law of attraction. You will see – your life will change for the better.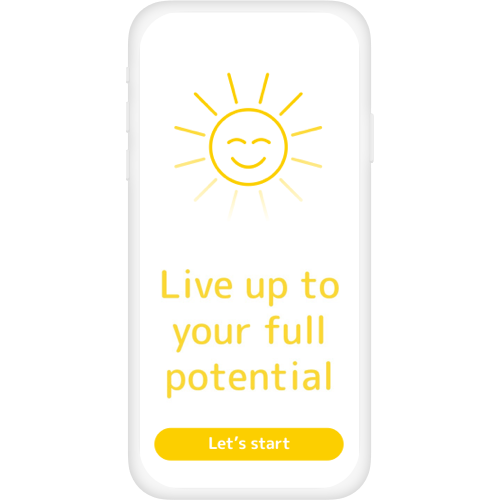 The advantages at a glance
250,000+ Perfectly Happy visualizers worldwide.
How does the Perfectly Happy app work? Perfectly Happy will help you with scientifically proven mental techniques such as
to improve your life sustainably and to develop your personality. The heart of the app is the flexible, digital vision board that allows you to create your individual mind movies.
This method of visualizing goals by selecting and viewing a collage of images is something very individual and personal. The Perfectly Happy Vision Board creates a clear, mental image of the life you want to live. From now on your life will be determined by your positive thoughts about the future and no longer by the old memories of the past.
For even greater effectiveness, Perfectly Happy combines the images with positive affirmations and music – making it the first app of its kind to offer flexible mind movies.
This Vision Board & Affirmations app is the ultimate tool for goal setting and visualization that can help you focus on your aspirations and bring them to reality. A vision board, also known as a dream board or inspiration board, is a collage of images, words and phrases that represent one's goals and aspirations. By creating a visual representation of what you want to achieve, you can see your goals in a tangible way, which can increase motivation and commitment to achieving them. By constantly looking at it, the subconscious mind can be influenced to work towards manifesting those aspirations.
Visualization is a recognized, scientific method that is often used by top athletes, show stars, and CEOs as a key part of their success strategies. For example, Oprah Winfrey, Victoria Beckham, Bill Gates and Tiger Woods have relied on the positive power of visualization for many years.
What area of life would you like to improve?
First things first: You are good the way you are! With Perfectly Happy, however, you can specifically optimize individual areas of your life to live the life you want. Just 3 minutes a day is all it takes. You can choose from these areas of life in the app:
Why should you use Perfectly Happy?
In short: You have nothing to lose, but a lot to gain – just try it and make your own positive experience! Download the app and experience the positive effects of the personality development tool for free in the first 7 days. You can cancel free of charge at any time during the free trial period.